BOTANICAL PRINTING WORKSHOP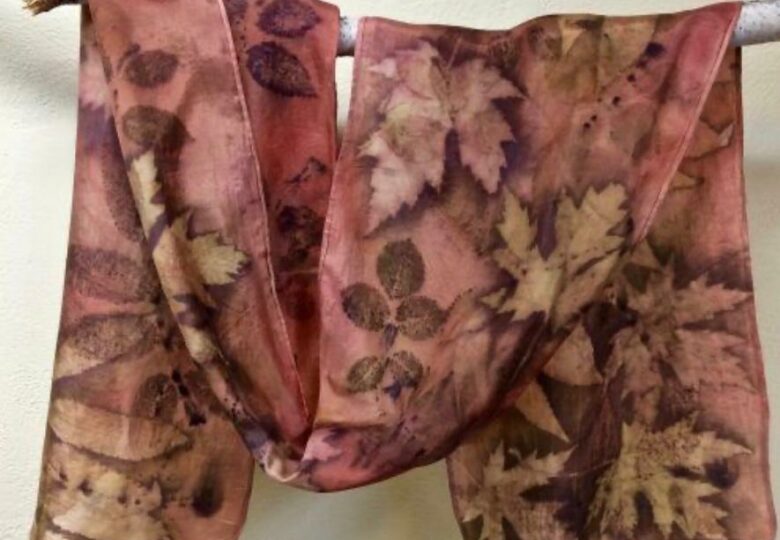 Join us for an immersive two-day workshop where you will discover the fascinating art of botanical printing on fabric and paper. This hands-on experience will allow you to explore the intricate beauty of nature and learn techniques to create stunning prints using plants and flowers.
Day 1: On the first day of the workshop, you will delve into the fundamentals of botanical printing, its history, and its relevance in contemporary design and textile art. You will learn about different plant materials that can be used for printing and how to responsibly source them.
You will be introduced to various preparation techniques to treat fabric and paper for botanical printing. You will learn about the unique properties of each plant and how they contribute to creating distinct patterns and colours.
Throughout the day, you will have hands-on practice in creating your own botanical prints. You will have the freedom to experiment with different combinations of plant materials, layering techniques, and colour variations.
Day 2: On the second day, the workshop will focus on expanding your creative repertoire and enhancing your printing skills. You will learn advanced techniques to create more complex and intricate designs on fabric and paper.
Our final project would be a tote bag and/or a T-shirt dyed with botanical printing techniques.
Throughout both days, there will be ample time for individual exploration and experimentation. By the end of the workshop, you will have gained a comprehensive understanding of botanical printing and acquired the skills to create your own botanical prints on fabric and paper. You will leave the workshop with a portfolio of your creations, newfound inspiration, and the ability to continue exploring this beautiful art form independently.
Note: All materials required for the workshop, including fabric, paper, plants, and dyes, will be provided. Participants are advised to wear comfortable clothing and bring any specific plants or materials they would like to experiment with.
Saturday 07.10.2023 from 12:00 – 16:00
Sunday 08.10.2023 from 12:00 – 16:00
Price: 1600 Kr
The workshop will be held in English
About the teacher: Yanitsa has studied fashion design in the Academy of Fine Art of Frosinone, Italy. Throughout her studies, Yanitsa developed strong interest for ethical and environmental friendly approach towards fashion and textile design.
CONDITIONS
Registration for the course is by email info@arttik.no and its binding.
Note: The registration is final when you receive a confirmation email